Toyota Motor Corporation, the producer of the Prius, the world's first mass-produced "green" car, recently offered royalty-free access to nearly 24,000 of its hybrid vehicle patents through 2030.  This constitutes nearly 10 percent of the approximately 260,000 patents the company currently owns. In 2015, Toyota first open-sourced about 5,680 of its fuel cell patents. Now, Toyota is adding approximately 2,590 patents related to electric motors, 2,020 patents related to PCUs, 7,550 patents related to system controls, 1,320 engine transaxle patents, 2,200 charger patents, and 2,380 fuel cell patents, which brings the total number of royalty-free fuel cell-related patents now available to 8,060. Interested parties may contact Toyota to discuss specific licensing terms and conditions as well as receive fee-based technical support.
The open-sourcing of thousands of Toyota's patents is an important step forward in the electrification of the worldwide automotive fleet, especially as automakers race to meet increasingly stricter emissions standards across the globe. In fact, it is expected that carmakers will spend around $255 billion on manufacturing electric cars by 2022.
Toyota's focus on hybrid cars stands in contrast to many other carmakers who are bypassing hybrids entirely and shifting to fully-electric cars. Highlighting this distinction, Toyota will not include access to its lithium-ion battery technology, a key technology in electric car batteries. Furthermore, recent comments by Bob Carter, the Executive Vice President of Sales for Toyota Motor North America, highlight Toyota's difference in thinking from other automakers.
"On electrification, we see an opportunity in North America, but it's much further down the road,"

"This is going to be a slow evolution in the U.S. market, unlike in China and Europe where there are government regulations"

"[n]obody is selling electric vehicles at a profitable margin."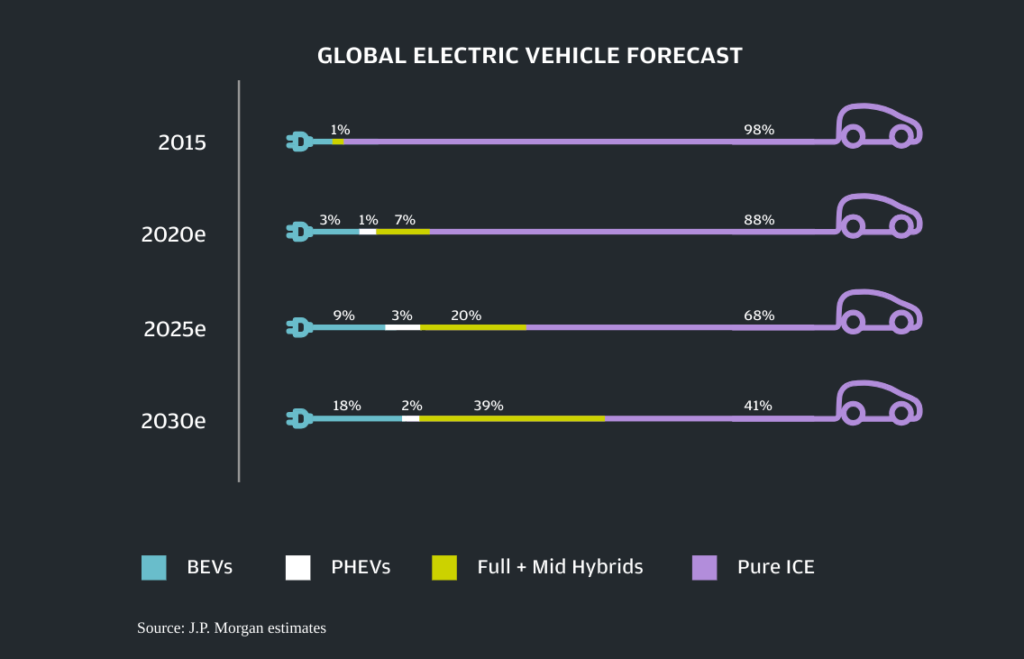 Toyota's focus on hybrid vehicles may be a winning strategy. Today, Toyota vehicles account for more than 80 percent of the global hybrid vehicle market.  In fact, the company has sold more than 13 million hybrids since 1997, when it first released its flagship hybrid, the Prius. By releasing its hybrid vehicle patents royalty-free, Toyota increases the likelihood other manufacturers make hybrids based on the same platform as Toyota, both decreasing costs and increasing demand for the carmaker's offerings.
In addition, J.P. Morgan reports that hybrid car sales are expected to experience huge growth in the next few years. While hybrid vehicles only had a three percent market share of global auto sales in 2016, that number is expected to grow to 23 percent of the market by 2025, representing approximately 25 million hybrids sold. By 2030, J.P. Morgan expects 41 percent of new car sales to be hybrids, the same amount as traditional internal combustion engine cars. Should J.P. Morgan's predictions hold true, Toyota would be the likely leader in this fast-growing automotive sector.
Photo by:  Simone Acquaroli on Unsplash